Category Archives:
news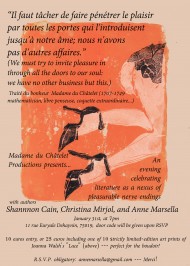 I am thrilled to announce the launch of Mme du Châtelet Productions, a new literary salon in Paris featuring women writers exploring the pleasures of text in the spirit of Emile du Châtelet, the eighteenth century mathematician and enlightened coquette.  Emilie  outwitted her lover Voltaire in science and math experiments, gambled men under the table through, "prodigious feats with numbers in her head," translated Newton into French while pregnant and created the fashion of rouging nipples for the plunging necklines she favored.
Of happiness, she wrote: "We must try to invite pleasure in through all the doors to our soul: we have no other business but this."
Our mission is to celebrate how the word becomes flesh and turns us on — au féminin — by encouraging contradiction, unlikely pairings, the outrageous, the erotic, the poetic, the sensual, the quiet and the loud, as well as the engagement of our bodies and imaginations as we push the boundaries on polite literary intercourse to create a space where something new, wild and woman-designed can be born.
Come join us on January 31st at 7pm with writers Shannon Cain, Christina Mirjol and Anne Marsella!  RSVP annemarsella@gmail.com
Bringing together artists, musicians and writers I like makes me particularly happy. I've had the idea for quite some time to start a salon and finally got around to organizing it in March, at Martha's Place. My sincerest thanks go to Michael McCarthy whose help on the gallery side was invaluable, and to Gerald Fleming who picked up on my suggestion and encouraged me to take the leap. Gratitude too, to the Belleville Choir (Cecile Farkas, Brent Keever, Agnes Brice, Susie Kalich, Harriet Lye and Pierre Grammont) who lifted their voices for the fourth time for a cross-gender variation on The Baby of Belleville.
Here's the program:March 22 – Literary Salon at Martha's Place with writers Stephen Dau, Gerald Fleming, Jeffrey Greene, Harriet Lye, Rosa Rankin-Gee and myself with the choir.
A gorgeous evening of readings with a huge turnout, lots of nice wine, a gigantic brie de Meaux and other good chitlins. I used this occasion to launch my campaign for popehood and handed out little pochettes picturing me as Popessa (drawing by my son – he believes in his mother like no other), each with a prophylactic inside. "More fun at the Vatican with Popessa Anna Francesca I" was the slogan. It's time, Friends, no?
March 23 – Art Gallery opening featuring the works of two … Read more →