Today, my friends, I am going to brag.
Bragging is the hammer in The Womanly Arts tool box.  When I first began my study of The Arts two months ago, I thought to myself  "No thank you, I won't be needing one."
Yes, prior to enrolling in Mastery (At Mama Gena's School of Womanly Arts, NYC), I assumed brags were the preserve of men's locker room, the gilded johns of the Vatican and G7 Summits.
A woman friend of mine said, "this bragging thing sounds interesting but completely foreign."
She was right.  In general women don't brag, they deprecate.  Compliment a woman on her new hairstyle and you'll get a "thank you" (maybe) immediately followed by a disparaging comment that the color's not quite right or there's a  poof issue in the back.  The self-deprecation habit is endemic; too many women  play it down, thinking they're playing it safe.
Playing it safe?  Do you think we have time for that?   Sisters Goddesses, we've got to turn up our volume!  We've got to get real!  And real is never, ever safe.

But Mama Gena has convinced me the world's best braggers are actually women and that the womanly brag has its own unique anatomy.    Women training in The Arts tend to brag in a two-fold manner, and quite differently from men; firstly they provide the swampy context they've had to muck through, and secondly, their triumph over it.
Here's an example: "I brag I've been taking care of my sick mother and am really worn out; I brag I booked myself a massage-hammam adventure with my daughter this weekend; I brag I've never done such an extravagant thing before; I brag that it feels awesome to take care of my needs and put them first."
The Sister Bragger above has done something stupendous: she has given her need for self-care priority at a time when she's being sapped dry by a family member's health needs: with that level of exhaustion you have to marvel she had enough brain momentum to make the appointment.   Rather than soldier on at the front with a broken bayonet, she has wisely chosen to retreat to the spa and teach her daughter the importance of filling up the well.
What the brag ultimately does is celebrate a woman's act of bravery, defiance, outrageousness or pleasure while allowing her to digest the kudos on a cellular level and own every ounce of her triumph.   It's a jolt up to the next vibrational level, a pleasure treatment that restores the Creatrix to her rightful place.   In Mastery, no brag goes unrecognized.  When a woman brags, her Sister Goddesses upride her with a resounding "Well Bragged!"
But don't just take my word: try it yourself.   Brag to me and I'll upride you with gusto.
So now, here is mine: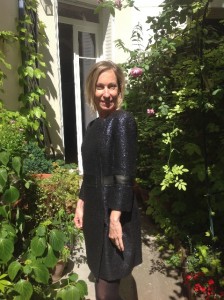 I brag my friend, Sister Goddess Tina, gave me a magnificent piece of couture – a Maxime Simoens dress coat of shimmering mermaid skin; I brag that I look and feel gorgeous in it; I brag that SG Tina is an awesome friend and her generosity makes my life richer; I brag I'm going to wear the dress to a reading I'm taking part in next Saturday; I brag I'll be reading a snippet from my new novel; I brag that reading my work while wearing Tina's gift of haut couture is a prospect that thrills me; I brag that my husband's new album KRISIS got a glowing review in Libération; I brag that's really his brag but I'm bragging it anyway because it feels good to; I brag Paris has turned the page on chill and rain and is in full raiment, with sunlit sleeves; I brag it is Saturday and I am happy!
Get the idea?
And here is the Libération review of  KRISIS
"La voix de dentelle de la saxophoniste Alexandra Grimal a trouvé écrin à sa mesure entre les compositions du contrebassiste Thierry Mariétan. En effet, le répertoire, souvent lyrique, laisse libre cours aux jaillissements tout en dentelle du ténor. La Française s'en donne à coeur-joie. Le leader signe le deuxième opus, après Astargallus (2013). Il peaufine un concept compositeur d'orfèvre pour une musique intime, sertie cependant d'innombrables espaces de liberté. Le violoncelle de Karsten Hochapfel enrichit la musique circulaire de nombreuses ponctuations et  rentre dans la boucle des improvisations à entrées variables : en solos, duos, trios. Le pianiste Paul Wacrenier n'est pas en reste : les montées free avec le contrebassiste, parfois binaires, envoûtent les solistes.
Thierry Mariétan Krisis (Petit Label)."
Alright — now get bragging!