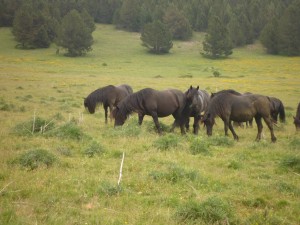 Happy New Year to all!
May the Year of the Horse send you galloping toward the realization of your dreams while giving you plenty of prairie time to ponder the wonder of it all.
I've been away from the blog for some time.  Life has been full and I've had my nose to the grindstone finishing my novel.   Alongside the plume work, I've been introspecting to come up with new plans.  Already, I feel a plot percolating though it's too soon to christen it; I'll only mention it does involve doing the Mastery program at Mama Gena's School of the Womanly Arts in NYC this spring.  You'll receive an invite to the baptismal fount when the time comes.  I'll be wearing my J-C de Castelbajac for the occasion.
Having quit my last job in a mire of toxic relationships I'm now committed to the preservation of peace in my life, and, by natural extension, the world.  Because, my friends, each one of us is the world, and our acts and thoughts reverberate both within and without.  Growing up Catholic, I was warned against "sinful" thoughts and told to seek the intercession of St. Michael who manages the Vatican's clean-up crew.  One was supposed to do most of the mopping up oneself, of course, but the recalcitrant strains required the muscle only Michael could provide.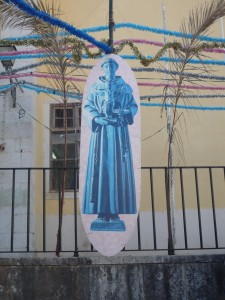 But let's put the plush, mortifying notion of sin aside and look with curiosity at our thoughts and what they do.   I find this sequence of questions insightful:
1) How do my thoughts make me feel?
2) How does what I feel affect what I do and say?
3) How does what I do and say affect my health and happiness and that of others?  What impact does it have on the world?  What is it creating?
What I'm pointing out is rudimentary, and yet how often do we take the time to know and tune into our thoughts and the feelings they engender?  The mental sphere is not quite the private lounge we'd like to believe, and whether or not we are aware of it, we are creating our world with its iterations.  Science is now discovering our thoughts register at a cellular level, affecting health.   If this is so, it would make sense to pay attention to the reels playing in our minds; if we're stuck watching reruns of Whatever Happened to Baby Jane, we might consider dialing St. Michael's hot line.
So, my friends, to keep our thoughts tasty today, I'd like to share with you a wonderful recipe for Veal Piccata.   This dish is both elegant and delicious, perfect for a dinner party or romantic repast.   And it's extremely easy to prepare.  I retrieved it from the  www.saveur.com.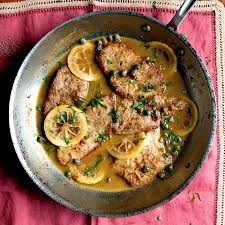 Serves 6
INGREDIENTS
2lbs veal cutlets, also called scaloppini, pounded until ¼" thick (about 12)
Kosher salt and freshly ground black pepper, to taste
½ cup four
4 tbsp. unsalted butter
2 tbsp. olive oil
½ cup dry white wine
1 ¼ cups chicken stock
1 lemon thinly sliced
1 tbsp. fresh lemon juice
¼ cup capers, drained
2 tbs. chopped parsley
Instructions:
1. Season veal with salt and pepper and dredge in flour, shaking off excess. Heat 2 tbsp. butter and oil in a 12" skillet over medium-high heat.  Working in batches, add veal, and cook, turning once, until golden brown, about 3 minutes.  Transfer to a serving platter and set aside.
2) Add wine to skillet and cook, scraping bottom of pan until reduced by half, about 3 minutes.  Add stock and lemon slices and bring to a boil; cook until reduced by half, about 8 minutes.  Add remaining butter, juice, capers and parsely, and season with salt and pepper.  Pour sauce over veal and serve immediately.
Enjoy!